Kidde Intelligent Optica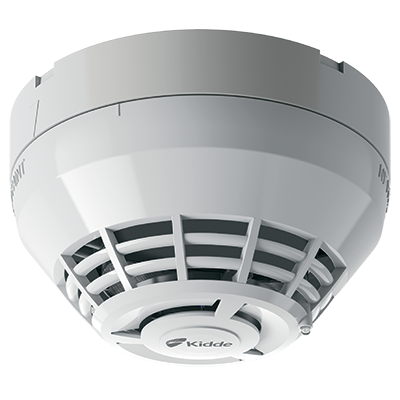 Leading The Way
Experience unique technology in smoke detection thanks to Optica, a next-generation detector engineered for modern materials and building environments.With early compliance to UL 268, 7th edition requirements, Optica raises the bar for intelligent response to today's fire risks.
Minimize nuisance alarms and business disruptions
Provide faster, more accurate detection and alarms
Become UL 268 compliant with patented technology
YouTube Embed Video
Smart Detection for Safer Facilities
Compliance
By June 2021, all new system-connected smoke detectors must pass new UL 268 7th edition standards. Optica is early compliant, thanks to its patented multi-criteria optical smoke sensing technology. Read the whitepaper now.
Differentiation
Only Optica uses our patented optical sensor to differentiate between nuisance particles like cooking smoke, dust or steam, and serious hazards, only reacting to those that pose a threat. The result is a drastic reduction in nuisance alarms.
Installation
You don't have to choose between compliance and cost, thanks to backwards compatible features that allow for forward migration without systems updates. Retrofit an existing facility without any rewiring and allow continuous self-diagnostics to ensure long-haul reliability.